Unfunny Nerd Tangent, the final frontier… This time, we went where no one has gone before and reviewed the latest entry into sci-fi lore… Star Trek: Picard.
 With Tim and Jared busy on Mount Seleya, long time Star Wars aficionado, Flo spills the beans on her recent two-year binge of everything Star Trek. Caleb from the Autopod Decepticast (and our recent Metallica episode) returns to wax poetic about all things TNG and special guest, Chris Clow from The Comic Binge and Discovery Debrief podcasts gets trapped in the Delta Quadrant with us, as we broke down the good and the bad of Patrick Stewart's return to the Captain's chair.
Personally, we rate this one a Seven (of Nine), so take a seat (like Riker) and check it out before Q returns to smite us.
Hosted by: 'Captain Boomerang' Greig Tansley (@GreigT13).
Featuring: 'Number One' Flo (@glitbiter), 'Emergency Hologram' Caleb Carter (@ApodDcast / @cwcarter725).
Special Guest: 'Admiral' Chris Clow (@chrisclow / @DSCDebrief/ @bingecomic).
Music by: Jerry Goldsmith & MastGRR.
Boldly go where no one has gone before with Mon Milfma! Grab an Unfunny Nerd Tangent shirt today! Make it so!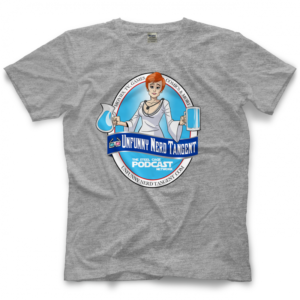 Support us on Patreon! — SUBSCRIBE in iTunes! — SUBSCRIBE via Google Play! — Favorite us in Stitcher! — Listen via TuneIn Radio! — Follow us on Soundcloud! — SUBSCRIBE to our YouTube Channel!