Get your THWIP on with not one, not two, but a multitude of Spider-Men (and women), as we dive mask-first into the new animated feature, Spider-Man: Into the Spider-Verse.
Friend of the show, Mateo Morales returns to explain exactly why he named his son Miles (you heard us), Greig and Jared argue about… sorry, 'ponder' the future of the Tom Holland Spider-Man series, and of course, we gush over the phenomenal animation techniques used in bringing this film to life.
All this and more on an all-Spidey edition of Unfunny Nerd Tangent.
Hosted by: 'Captain Boomerang' Greig Tansley (@GreigT13).
Featuring: 'SuperJew' Jared Robinovitz (@SuperJew75) and 'My Son Really is Miles' Mateo Morales (@Matt_Morales).
Music by: Post Malone & Daniel Pemberton.
It doesn't matter which Spider-Universe you come from, Mon Milfma is the ultimate true-believer! Make sure you take fate into your own web-slinging hands with an Unfunny Nerd Tangent shirt!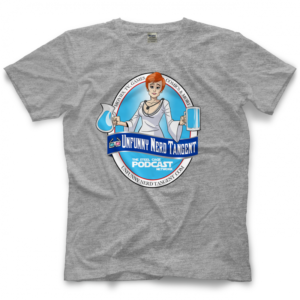 Support us on Patreon! — SUBSCRIBE in iTunes! — SUBSCRIBE via Google Play! — Favorite us in Stitcher! — Listen via TuneIn Radio! — Follow us on Soundcloud! — SUBSCRIBE to our YouTube Channel!