Unfunny Nerd Tangent 88: Jingle All the Way
Welcome back to the Festive Season, where, in the true spirit of the American Christmas tradition, an Australian bloke and a Jewish guy sit down to talk about The Smash Hit Holiday Classic: Jingle All the Way!
Greig and Jared dive into yet another cheesy holiday movie to dissect its effect on Christmas, holiday movies in general, what can be seen as the 'low point' of Arnold Schwarzenegger's career (thankfully Batman & Robin came next), and its scarily-accurate prediction about the legacy of Jar Jar Binks.
We shared egg-nog, collector OCD stories and even punched a reindeer, all the while Jared explained the origin story of 'Jewish Santa'.
After 20 years, Jingle All the Way still divides audiences, but to hear what we think of it, check out UNT 88.
Happy Holidays!
Hosted by: 'Captain Boomerang' Greig Tansley (@GreigT13).
And Featuring: 'SuperJew' Jared Robinovitz (@SuperJew75).
Music by: Bobby Helms & Brian Setzer.
If you're like Ted and are looking to search the neighborhood for lonely housewives… look no further than Mon Milfma! Grab an Unfunny Nerd Tangent shirt today! She's always ready with the milk and cookies!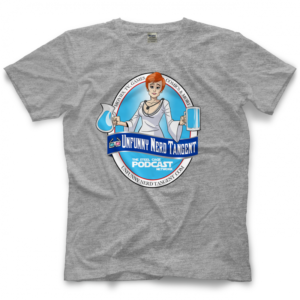 Support us on Patreon! — SUBSCRIBE in iTunes! — SUBSCRIBE via Google Play! — Favorite us in Stitcher! — Listen via TuneIn Radio! — Follow us on Soundcloud! — SUBSCRIBE to our YouTube Channel!