When looking to point our Unfunny Nerd Tangents away from Hollywood for once, who better to talk about than the biggest metal band of all time? Exactly. This episode is all about… Metallica.
Greig and Bryan (yes, Bryan) finally bring together a podcast almost three years in the making, to talk about their favorite band, alongside special guests Mike Seibert (from the Mike Seibert Radio Show) and Caleb Carter (from the Autopod Decepticast).
Together, these Four Horsemen dive deep into Metallica's back catalogue, their golden age of commercial success despite a very personal tragedy, the Napster controversy, what seems to be a never-ending roster of bass players, as well as wondering if the theory about that tour with Guns N Roses (effectively ending Axl Rose's career) is actually true.
Sad But True.
So if you're the one For Whom the Bell Tolls, make sure you have No Remorse, Jump in the Fire and be ready to Ride the Lightning and dive into this epic edition of Unfunny Nerd Tangent.
Because Nothing Else Matters.
Hosted by: 'King Nothing' Greig Tansley (@GreigT13).
Featuring: 'Breadfan' Bryan Gregston (@guitarsalad).
Special Guests: 'Harvester of Sorrow' Caleb Carter (@cwcarter725) from the Autopod Decepticast Podcast (@ApodDcast) & 'Master of Puppets' Mike Seibert from Mike Seibert Radio (MikeSibertRadio).
Music by: Ennio Morricone & Beatallica.
Don't go buying those overpriced concert shirts, grab Mon Milfma instead! Make sure you go Through the Never and grab an Unfunny Nerd Tangent shirt today!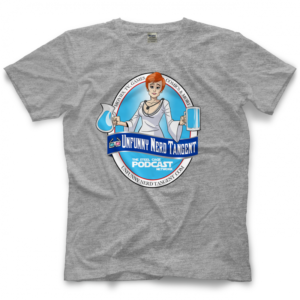 Support us on Patreon! — SUBSCRIBE in iTunes! — SUBSCRIBE via Google Play! — Favorite us in Stitcher! — Listen via TuneIn Radio! — Follow us on Soundcloud! — SUBSCRIBE to our YouTube Channel!