Quentin Tarantino's 9th film, Once Upon A Time in Hollywood, has been released and to say it has divided audiences is an understatement. But what did we think of it?
We welcome G1 from the Mat Mania Podcast (and managed to get Darrell for two episodes in a row) to talk all things Tarantino, including all of his usual tropes, his love of feet and violence, and how this movie fits into the alternate world history his films have created.
If you're the Devil and you're here to do the Devil's business, then check out UNT 82 before history resets faster than a Timothy Olyphant jump-cut.
#ChekhovsFlamethrower
Hosted by: 'Captain Boomerang' Greig Tansley (@GreigT13).
Featuring: 'SuperJew' Jared Robinovitz (@SuperJew75), 'Beast From the Middle East' Darrell Johnson (@zazzumplop), Foz (@havoksmane) and G1 (@g1totherescue / @MatManiaPodcast).
Music by: Neil Diamond & Jim Lowe.
No one can save you from a bunch of murderous hippies better than Mon Milfma! Grab an Unfunny Nerd Tangent shirt  and rewrite your own history, today!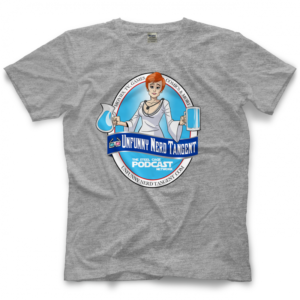 Support us on Patreon! — SUBSCRIBE in iTunes! — SUBSCRIBE via Google Play! — Favorite us in Stitcher! — Listen via TuneIn Radio! — Follow us on Soundcloud! — SUBSCRIBE to our YouTube Channel!