Are you a Space Ranger, lost on an unknown world with no signs of intelligent life? Or are you a pull-string cowboy sheriff looking out for all those around you, frustrated by life's hurdles and that ever-elusive shepherdess? Than we have the podcast for you, as we sat down to discuss all things Toy Story.
While Greig shakes off the dust bunnies, Jared and Tim look back at their childhood (and Tim's very own Julius Caesar moment) to a simpler time when CGI family movies were still awe-inspiring and amazing. Who are we kidding? The Toy Story Series continues to be all those things and more, even if we got a sequel that (maybe) we didn't need.
Either way, join us in the trash bin and check out Unfunny Nerd Tangent 79: The Toy Story Series.
Hosted by: 'Captain Boomerang' Greig Tansley (@GreigT13).
Featuring: 'Garbage Truck' Tim Agne (@timagne) & 'SuperJew' Jared Robinovitz (@SuperJew75).
Music by: Randy Newman & Sex Bob-Omb.
You've got a friend in me, but want you really want, is a friend like Mon Milfma! Wear your Unfunny Nerd Tangent shirt with pride as you scour garage sales for antique toys, ride the carousel or relive your past as a 1950s television star! Heck, why not buy two and keep one mint in box? Just don't wipe Cheetos on it, or you'll be sadder than a Sarah McLachlan song!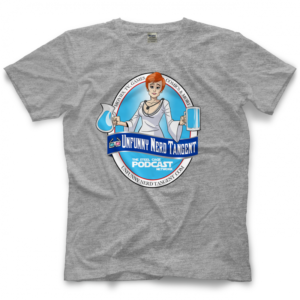 Support us on Patreon! — SUBSCRIBE in iTunes! — SUBSCRIBE via Google Play! — Favorite us in Stitcher! — Listen via TuneIn Radio! — Follow us on Soundcloud! — SUBSCRIBE to our YouTube Channel!