What do you get when you cross M. Night Shyamalan's Unbreakable with M. Night Shyamalan's Split? Why, you get M. Night Shyamalan's Glass, of course.
Okay, I'm sick of typing Shyamalan now.
Anyway, for our latest episode, we welcome friend of the show, Mike Dipasquale to analyse and review the new, hotly-anticipated movie… Glass.
So avoid water at all costs, step into the light and hold onto your motherf**king butts, because UNT 68 is about to bust out its capes (and rain ponchos), erase all security footage and possibly sneak into your backdoor sequel.
Hosted by: 'Captain Boomerang' Greig Tansley (@GreigT13)
Featuring: 'First Name: Super… Last Name: Jew' Jared Robinovitz (@SuperJew75), 'Backdoor Sequel' Tim Wendell Agne (@timagne), and 'Small Canadian Penis' Mike Dipasquale.
And Special Guest via our very first UNT Flashback: 'PipeBomb' Bryan Gregston (@guitarsalad).
Music by: West Dylan Thordson & Kimmy Schmidt.
If the longing touch of a beautiful women is the only thing keeping your 'Beast' at bay, then Mon Milfma is the one for you! Step into the light and grab an Unfunny Nerd Tangent shirt. They're Unbreakable!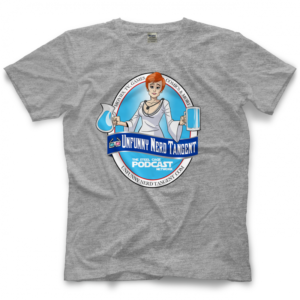 Support us on Patreon! — SUBSCRIBE in iTunes! — SUBSCRIBE via Google Play! — Favorite us in Stitcher! — Listen via TuneIn Radio! — Follow us on Soundcloud! — SUBSCRIBE to our YouTube Channel!