Has Matt Groening still got it? The Simpsons was an instant classic, while Futurama blew our minds and broke our hearts. But somehow, getting our friends to watch the animated Netflix series Disenchantment is harder than dragging a one-eyed lady giant to a royal ball.
Maybe it's the tired, status-quo structure of the season's middle episodes. Maybe the characters and jokes just aren't edgy enough. Maybe King Zøg reminds us a little too much of our friend Jared.
Hold on a second, Leave-o. This episode has a spoiler-free section where we'll tell you why it pays to stick with Disenchantment for the full 10-episode season. And then we'll make some Kevin Smith references and — oh, who are we kidding? None of this turned out the way we wanted. Look at us, two grown men talking about cartoons on the internet. Does anything even matter anymore?
Disenchantment!
Hosted by: 'The Three-Eyed Wizard' Tim Agne (@timagne).
Featuring: 'The Royal Tit' Greig Tansley (@GreigT13).
Music by Mark Mothersbaugh and Marcy Playground.
Do you need to sit down because your clothes are too heavy? Try an Unfunny Nerd Tangent shirt!
Mon Milfma's blue milk is the true elixir of life!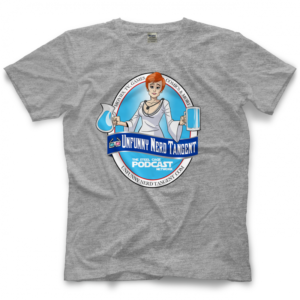 Support us on Patreon! — SUBSCRIBE in iTunes! — SUBSCRIBE via Google Play! — Favorite us in Stitcher! — Listen via TuneIn Radio! — Follow us on Soundcloud! — SUBSCRIBE to our YouTube Channel!