What did you expect? A clip show? Unfunny Nerd Tangent reaches the 100 Episode mark with an entry that relives all the madcap shenanigans we've encountered over the last one hundred podcasts.
Our very own Alex Trebek, Darrell returns in his role as games master for this recap episode to analyse the abundance of trivia covered by our nerdy podcast. Not to mention creating several unfunny tangents along the way to crown the first-ever Unfunny Nerd Tangent Champion.
Be ready to scream out those answers in frustration. You've been warned.

Hosted by: 'Captain Boomerang' Greig Tansley (@GreigT13).
Guest Gameshow Host: Darrell Johnson (@zazzumplop).
Featuring: 'SuperJew' Jared Robinovitz (@SuperJew75), 'Veronica Tick' Tim Agne (@TimAgne), 'Glitbiter' Flo (@glitbiter), 'Mayor of Reseda' Derek Montilla (@cap_kaveman), 'Youseph 'Yoshi' Tanha (@yousephtahna) and 'Glip Glop' Mateo Morales (@matt_morales).
Music by John Williams & Glitbiter.
If there was ever a time to order a fantastic Mon Milfma shirt, it's to celebrate the big 100! So get onboard with the Centurion of Soft Style and grab an Unfunny Nerd Tangent shirt!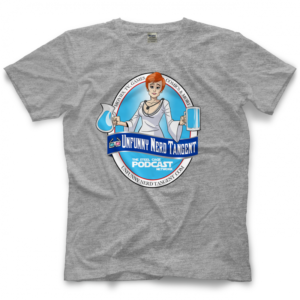 Support us on Patreon! — SUBSCRIBE in iTunes! — SUBSCRIBE via Google Play! — Favorite us in Stitcher! — Listen via TuneIn Radio! — Follow us on Soundcloud! — SUBSCRIBE to our YouTube Channel!