Hey yo, we didn't hear no bell, so like… we thought we'd get together and go the distance to talk about the new films revital… reinvigor… uh, re-imagining the Rocky Series – Creed and Creed II.
Special guests, Teek Hall and Mega Ran join us from the Mat Mania Podcast to help break down both films, gush over all things Philly and peruse those old photographs of Dolph Lundgren and Grace Jones.
You'd have to be punchy not to get excited for this one, so break out your boxing gloves, ramp up the montages and check out UNT: 63.
Just don't chase us with your van.
Hosted by: 'Captain Boomerang' Greig Tansley (@GreigT13).
Featuring: 'SuperJew' Jared Robinovitz (@Superjew75), 'Big Nasty' Tim Agne (@timagne) and 'The Founder and Proprietor' Joshua Schlag (@sclizzag / @thesteelcage).
Special Guests: Mega Ran (@MegaRan) and Teek Hall (@Teek_Hall) from the Mat Mania Podcast (@MatMania).
Music by: Ludwig Goransson & Mega Ran.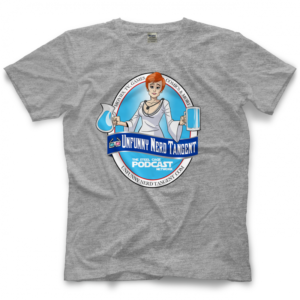 Support us on Patreon! — SUBSCRIBE in iTunes! — SUBSCRIBE via Google Play! — Favorite us in Stitcher! — Listen via TuneIn Radio! — Follow us on Soundcloud! — SUBSCRIBE to our YouTube Channel!
Make sure you grab an Unfunny Nerd Tangent shirt!  Mon Milfma won't go down for the count…